CHEESY RANCH CHICKEN FOIL PACKETS
Cheesy Ranch Chicken Foil Packets are super easy to put together for a make ahead meal that can be cooked on the grill, in the oven, and is great for camping, picnics, and barbecues!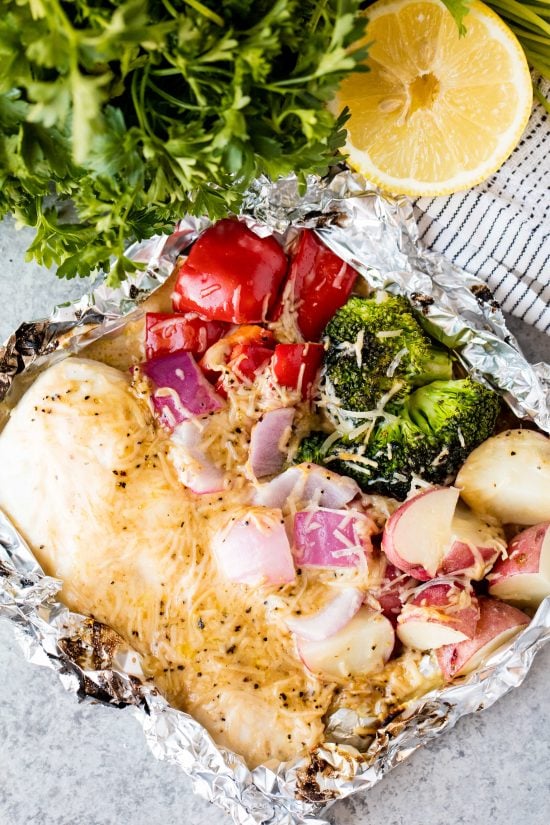 Foil packets, also known as tin foil dinners, make the perfect summer meals. You put them together ahead of time and cook when ready. The best part is they are a complete, self contained meal.
They can be cooked in the oven, on a grill, or even on an open fire which makes them perfect for camping. And you know those grills at the park? These are perfect for them too! They are self contained so you don't have to worry about how gross the grill is. Because I'm not the only one who worries about that, right?
This recipe is all about the sauce. This flavorful ranch sauce tenderizes the meat and brings a lot of flavor to both the chicken and the veggies. And who doesn't love ranch? It's a classic flavor combination for a reason.
Ingredients
4 boneless skinless chicken breasts
3/4 pound red potatoes sliced thin
1 red bell pepper diced
1/2 red onion diced
2 cups broccoli florets
1/4 cup ranch dressing
1 tablespoon olive oil
2 tablespoons worcestershire sauce
1/2 teaspoon salt
1/2 teaspoon black pepper
1/2 teaspoon sugar
1 1/2 teaspoons lemon juice
1/2 cup grated parmesan cheese
Instructions
Lay out 4 pieces of aluminum foil, approximately 14×18 inches each. Lay 1 piece of chicken onto each piece of foil. Divide potatoes, red bell peppers, onions, and broccoli amongst the foil packets and lay next to the chicken.
In a small mixing bowl, whisk together ranch dressing, olive oil, worcetershire sauce, salt, pepper, sugar, and lemon juice. Drizzle mixture evenly over each of the foil packets.
Sprinkle parmesan cheese over chicken and veggies. Wrap up foil packets to close.
Oven: 375 degrees, 35-40 minutes ; Grill: 400 degrees, 20-25 minutes.